AOR HEAVEN ::: N E W S L E T T E R ::: 18/12/2020
Howdy melodic rockers,
The deed is almost done and our vacations are just around the corner (see the exact date below). Well, this was indeed a very special year with the Corona pandemic as the world wide dominating theme affecting almost our entire life.
In terms of the business 2020 was quite good for mail order related sales, but I easily would have changed this for giving us back our normal life !
There is light at the end of the tunnel with the vaccine against Corona due next, so let's keep our fingers crossed for hopefully getting back to normal life in the near future.
I have already pre-paired quite a lot of stuff both in terms for the label and the mail order for next year, so stay tunes for more news at this space.
Please take note that we'll
close for our vacations from December, the 22nd
until January, the 10th.
Thanks a lot to all our loyal customers, bands, artists, business partners and friends - wishing you a peaceful Christmas and especially a much better new year
Georg & Monika
AOR HEAVEN RELEASES:
| | | |
| --- | --- | --- |
| ALIEN Into The Future | A: 11 € | B: 13 € |
ALIEN is back with a new album. The Swedish outfit around Jim Jidhed (v), Tony Borg (g) and Toby Tarrach (d) sound unexpectently heavy and really rock like hell. But at the end of the day, it's Jidhed's voice alone that makes AOR freaks smile broadly. Tracks like "Night On Fire", "Time Is Right" or "Freedom Wind" might be classified as classic ALIEN material, even though definitely heavier but the opener "You Still Burn" definitely surprises even more, like "Really Wheeling It" does. Really heavy guitars and a contemporary production are nothing but bridging the gap from eighties AOR to hard rock today.

MARTIN STARK

Watch: https://youtu.be/6SL5FYJX2Dk
| | | |
| --- | --- | --- |
| EAST TEMPLE AVENUE - East Temple Avenue | A: 11 € | B: 13 € |
A new melodic supergroup? Well, in a way, yes! EAST TEMPLE AVENUE, the "baby" of Australian Darren Phillps (g) who collaborates with the Swedes Philip Lindstrand (g, ARKADO), Dennis "Butabi" Borg (b, CRUZH) and Herman Turin (d, WORK OF ART) as well as with the mighty voice Robbie LaBlanc (v, FIND ME, BLANC FACES) and delivers an AOR/melodic milestone. Let alone ´"Don't Make Believe", "My Last Breath" or "When I'm With You" shine. The ballads "The End Of Me" and "Where Love is" are amazing, too. Great production, absolutely no fillers and stellar musicianship are key points here. Please more, guys! Stadion rock-like anthems and emotional tunes which will definitely stay.

MARTIN STARK

watch: https://youtu.be/P0u7NQVrqnk
NEW RELEASES IN STOCK!!

| | | |
| --- | --- | --- |
| GEOFF MOORE - Where Are The Other Nine? (digitally remastered) | A: 13 € | B: 15,5 € |
Geoff Moore broke into the music scene with the help of Michael W. Smith while working in Nashville at a mens clothing store in 1983/84. Funny how being in the right place at the right time makes all the difference. But before you think that it was all coincidental there are a few things you should know. Geoff began singing while he was at Taylor University and was classmate to White Heart future lead singer, Rick Florian and went on to collaborate with Steven Curtis Champman on multiple projects. With songwriting contributions from White Heart core members Billy Smiley and Rick Florian "Where Are The Other Nine?" (1984) turned out as proper mix of 80s singer/songwriter AOR with a cool midwest vibe. First time on CD.

listen: https://youtu.be/5K5-Lzoo9Ww
GEOFF MOORE - Over The Edge
(digitally remastered)

A: 13 €
B: 15,5 €
Geoff Moore was a midwestern kid, born and raised in Michigan. The son of a minor league baseball player/steelworker, Geoff discovered singing while attending a then-Christian school known as Taylor University. Two years after his debut "Where Are.." Geoff Moore entered the studio with the entire White Heart crew to record "Over The Edge" (1986). It can be easily considered as a White Heart album...with Geoff Moore singing lead. Because that's pretty much what it is. Which worked out great for Geoff, since White Heart's roster has always been stocked with mega-talented musicians. As you can imagine there's the classic White Heart vibe all over the place on this cracking album. First time ever on CD.

listen: https://youtu.be/pUwpuhuPInw
GEOFF MOORE - The Distance
(digitally remastered)

A: 13 €
B: 15,5 €
"The Distance" (1987) was Geoff's last solo album before putting together a band and being Geoff Moore and the Distance. There must be some correlation between this album being call The Distance and his subsequent band being named The Distance but I don't know what it was. The band for this album consisted of Dann Huff, Gary Lunn and Mark Gersmehl all from White Heart along with Billy Smiley doing some backup vocals and producing the album. With songwriting contributions from Billy Smiley, Mark Gersmehl and Stephen Curtis Chapman you can be sure to get a cracking album somewhere between WHITE HEART, PETRA and GIANT. Digitally remastered re-issue.

listen: https://youtu.be/uyJE8Xa5d1M
LIAR - Set The World On Fire
(digitally remastered)

A: 12,5 €
B: 15 €
This re-release (limited to 1000 copies, numbered, incl. hand signed postcard, digitally remastered) of the second LIAR album (1978) is good stuff for people digging SLADE, BOSTON or UFO. The Brits rock. Steve Mann (g, LIONHEART, MICHAEL SCHENKER FEST) is still active today. "Town Of Evil People" is a wonderful, slightly melancholic ballad and "Who Cares", for instance, will please guitar freaks because SCHENKER or HENDRIX might have been great influences. Unbelievable that LIAR did not break back in the day.

MARTIN STARK

watch: https://youtu.be/lDFu6gzY2jM
AOR HEAVEN
CHRISTMAS SALE !!
As usual strictly based on a first come,
first serve basis !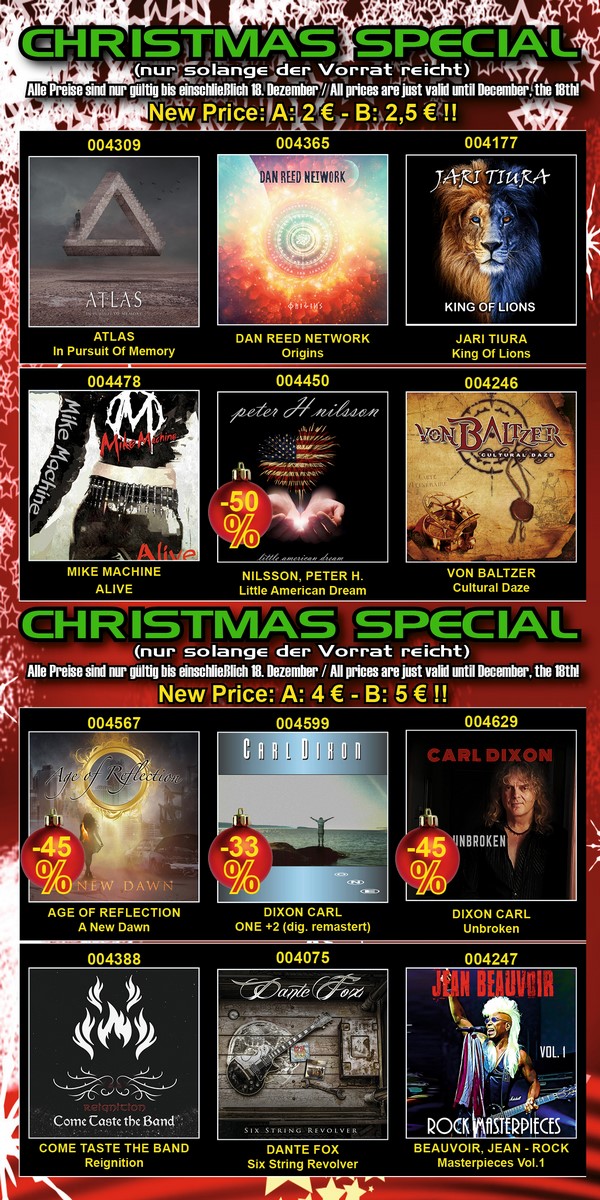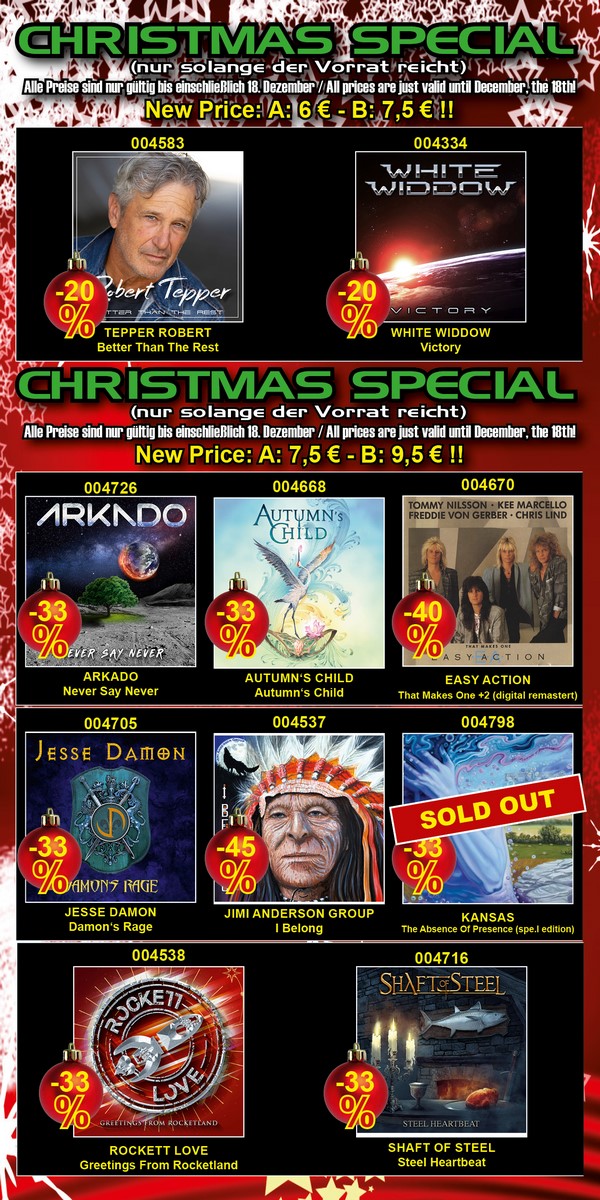 ART OF ILLUSION - 01/29
MARTIN PERTICONE - 01/29
CREYE - 01/22
W.E.T. - 01/22