AOR HEAVEN ::: N E W S L E T T E R ::: 03/12/2021
Howdy melodic rockers,
Christmas came earlier this years, cause if you believe it or not, but UPS delivered the Wicked Smile shipment earlier this week. Needless to mention that both parcels were in extremely poor shape after 6 weeks in several UPS warehouses, but anyway, we finally got it !
Also the Life Of A Hero CD are now on it's way after a long odyssey. Coming from down under and with a stop at the German customs inbetween I really hope we'll get the shipment sometimes next week – fingers crossed.
More good news as we waited almost 5 weeks to get the latest Frontiers releases like Eclipse, Houston, Jeff Scott Soto or Lords Of Black back in stock. You better hurry up to order them, cause these days it's impossible to quote if or when we'll get it back again.
Next week sees the last bunch of new titles, we should get the new Frontiers titles by Monday or Tuesday, but the solo CD from Krokus singer Marc Storace will be already online over the weekend.
wishing you a great week
Georg & Monika
AOR HEAVEN RELEASES:
| | | |
| --- | --- | --- |
| EDGE OF THE BLADE - Distant Shores | A: 11 € | B: 13 € |
EDGE OF THE BLADE around frontmann John Francis (AFTER HOURS) totally delivers here. "Distant Shores" is British melodic rock with a certain amount of hard rock of the finest sort ("Feel The Fire" or "Wait Forever") which means great songwriting and a powerful production which lets the songs breathe and which is almost reminiscent of a decent classic live sound. But also classic AOR in the vein of the masters of JOURNEY or STARSHIP can be found on this third record of the band ("Love Me Again"). Alan Kelly (ex SHY) on drums. "Distant Shores" is pretty suitable also for fans of HEAVY PETTIN', THUNDER or TRISHULA.

MARTIN STARK
| | | |
| --- | --- | --- |
| TONY MITCHELL - Hot Endless Summer Nights | A: 11 € | B: 13 € |
TONY MITCHELL is probably known best through his role as frontman of the 90s classic rock outfit KISS OF THE GYPSY but nowadays he regularly puts out very interesting solo albums, too. The follow-up to the early 2020 and highly praised album "Church Of A Restless Soul" can even add surprising elements. On songs like "Caught In The Headlights" or "Neon Sky" as well as on the title track the British singer offers a certain classic eighties flavor foremost. The songs also showcase an American approach in the sound, too. Absolute highlight is the amazingly powerful and simply authentic "Blame It On The Rock N Roll". Well done, Mr. Mitchell!

MARTIN STARK
EXPECTED NEW RELEASES !!
| | | |
| --- | --- | --- |
| STORACE - Live And Let Live (digi pack) | B: 13 € | B: 15,5 € |
The first solo album of KROKUS frontman Marc Storace. Style-wise it's no surprise, you get solid hard rock with a familiar voice which is still in good shape, though. The songs, apart from the title track which is based on an old song idea of Marc, are brand new. They are straight-forward and you immediately want to see them performed live on stage. Therefore, STORACE carries on the legacy of a band that made him sell millions of records worldwide and put Switzerland on the map of rock eternally.

MARTIN STARK
| | | |
| --- | --- | --- |
| LIFE OF A HERO - Letting Go (digi pack) | B: 13 € | B: 15,5 € |
| | |
| --- | --- |
| | "Letting Go" is the debut album from British act LIFE OF A HERO consisting of current members of Midnite City & Vega and boasts the unique vocal talents of Russ Grimmett – son of the legendary singer Steve Grimmett (Grim Reaper). When you have the guitarist, bassist, and drummer of Midnite City performing together here, you only can expect quality, add to that Russ Grimmett's impressive vocals and a strong, punchy melodic hard rock / AOR songwriting plus a production inspired by the glorious era, yeah, we have a winner here. Midnite City's Pete Newdeck not only play, but also mixed & produced, and the whole thing has been mastered by Harem Scarem's very own Harry Hess, who also features as a guest vocalist. |
| | | |
| --- | --- | --- |
| ZELBO - In My Dreams | B: 14,5 € | B: 17,5 € |
ZELBO is a melodic rock project of Norwegian keyboarder player Dag Selboskar who played with DA VINCI in the eighties already and also with STREET LEGAL. Slightly playful but astonishingly melodic songs which capture you right away. "Phoenix Rising" would have been a major hit some 30 years ago, I guess, and so would be the beautiful ballad "Wild Young And Free". Huge melodic rock and AOR sounds all over the place.

MARTIN STARK
| | | |
| --- | --- | --- |
| WICKED SMILE - Wait For The Night | B: 13 € | B: 15,5 € |
| | |
| --- | --- |
| | Melbourne five-piece classic hard rock outfit WICKED SMILE may not be a familiar band yet, but if the metal Gods are taking notice, their debut album "Wait For The Night" will change that. Produced & mastered by Danger Danger / The Defiants dio of Paul Laine and Bruno Ravel, the band delivers here a melodic, catchy, but at the same time a flat out, ball tearing, gut punching hard rock album that guarantees to keep you 'smiling' long after the CD finishes. If you are a fan of classic, straight up heavy rock that is meant to be played loud, then this band is definitely for you! 'As the press release states: "If you're a fan of bands like '80s Priest, Maiden, Dio, Icon and Skid Row or just good old Eighties heavy rock you should love this. |
THE MURDER OF MY SWEET -
A Gentleman's Legacy

B: 14,5 €
B: 17,5 €
Swedish outfit around Daniel Flores (d) and Angelica Rylin (v) with their sixth album. Once again a concept album and a very special one, though. It's the continuation of the story from MIND'S EYE's last album going all back to 2007 as Flores' former band has still got quite a following in the Underground. Partly progressive, constantly very melodic and pretty atmospheric foremost these twelve songs sound.

MARTIN STARK

Watch: https://youtu.be/O0OcjtEih4o
| | | |
| --- | --- | --- |
| CAP OUTRUN - High On Deception | B: 14,5 € | B: 17,5 € |
Progressive Rock from Sweden which is fascinating from the beginning. Initially formed by Andrée Theander (g) und Erik Wiss (keys) some fifteen years ago, now active with a slightly different line-up. If you are into FLOWER KINGS, SPOCKS'S BEARD or neo prog in the vein of PENDRAGON, you can't go wrong here. Chandler Mogel (OUTLOUD) on vocals. "Shadows On The Wall" or "As long As You Believe" easily showcase the sheer quality of this band.

MARTIN STARK

Watch: https://youtu.be/GKJKEm9sXeU
| | | |
| --- | --- | --- |
| AGARTHIC - The Inner Side | B: 14,5 € | B: 17,5 € |
AGARTHIC play cool symphonic metal and emerge from the North of Italy. Powerful sound full of drama, pathos and metal. A little bit of EDENBRIDGE, some slices of NIGHTWISH and EPICA can be heard. Mattia Gosetti (b) und Valeriano De Zordo (v) are the driving forces here as well as producer Aldo Lonobile (SECRET SPHERE). Mature songwriting and a multi-layered production are two further arguments to pay attention to this band.

MARTIN STARK

Watch: https://youtu.be/calFAMAOpWo
| | | |
| --- | --- | --- |
| LAND OF GYPSIES - Land Of Gypsies | B: 14,5 € | B: 17,5 € |
LAND OF GYPSIES (formerly known as GANG OF SOULS) is the collaboration of Terry Illous (XYZ, ex GREAT WHITE) and Fabrizio Grossi (b, GLENN HUGHES) who play melodic hard rock with a little bluesy twist. Somehow a mixture of BAD COMPANY and FOREIGNER but with a contemporary production. Eric Ragno (LONDON, CHINA BLUE) on keyboards. Just check out the groovy "Shattered" for a first impression.

MARTIN STARK

Watch: https://youtu.be/PPJrtIfF5HM
| | | |
| --- | --- | --- |
| MERCURY X - Imprisoned | B: 14,5 € | B: 17,5 € |
Cool and pretty much eighties-influenced progressive metal in the vein of early DREAM THEATER or QUEENSRYCHE played by this Swedish band. The long track "Imprisoned" is as impressive as the rest of the material for the most part. 45 minutes of sheer explosive creativity and musical talent, powerfully produced and equipped with lots of interesting breaks with some out of this world sounds. "The Light In Your Eyes" is another track to check out first.

MARTIN STARK
| | | |
| --- | --- | --- |
| RACHEL MOTHER GOOSE - Synra Bansho | B: 12,5 € | B: 15 € |
Neo-classical metal in the vein of YNGWIE MALMSTEEN from Japan. "Synra Bansho", already published in Japan in September, comes now here with an European bonus cut by the name of "The Earth Bounder". For fans of the genre "Synca Bansho" is a great choice and beats the last record of their obvious idol easily e.g. in terms of production. Pretty guitar-driven stuff but also singer Sunghoon Kim is a really good one. Mix and master by Alessandro Del Vecchio.

MARTIN STARK
NEW RELEASES IN STOCK!!
LIFE BY NIGHT - Glas Walls
(digitally remasterd)

B: 13 €
B: 15,5 €
| | |
| --- | --- |
| | LIFE BY NIGHT's second album from before the band disbanded at the end of the eighties. Tom Croucier (b/v) and his band of back then well-known session players (e.g. KISS, DORO, TINA TURNER) convince here. Really cool eighties rock with a little slice of pop and mostly stellar songwriting. Whoever is into JOHN WAITE, GLASS TIGER or SIMON SAYS can't go wrong here. Limited to 1000 copies, individually numbered. |
| | | |
| --- | --- | --- |
| DIRTY WHITE BOY - Bad Reputation +1 (digitally remastered) | B: 13 € | B: 15,5 € |
| | |
| --- | --- |
| | Sadly Dirty White Boy only ever did this one album (1990) but boy is it a corker! Formed around ex-Guffria vocalist David Glenn Eisley and former David Bowie guitarist Earl Slick they rocked big time with plenty of slide guitar courtesy of Earl Slick. Eisley's vocals are suitably gruff for this lean and dirty rock 'n' roll – 'Lazy Crazy' being a prime example. 'Let's Spend Momma's Money' is a real rock 'n' roll stomper with a nice honky-tonk piano riff going on in the background. They came out just as hair / glam metal was peaking and bands like Guns 'N' Roses were the big thing in rock music, the perfect market for this album. Perfert fodder if you're into Tesla, Company Of Wolves or Cinderella. Bad Reputation re-issue, digitally remastered. |
AOR HEAVEN
CHRISTMAS SALE !!
As usual strictly based on a first come,
first serve basis !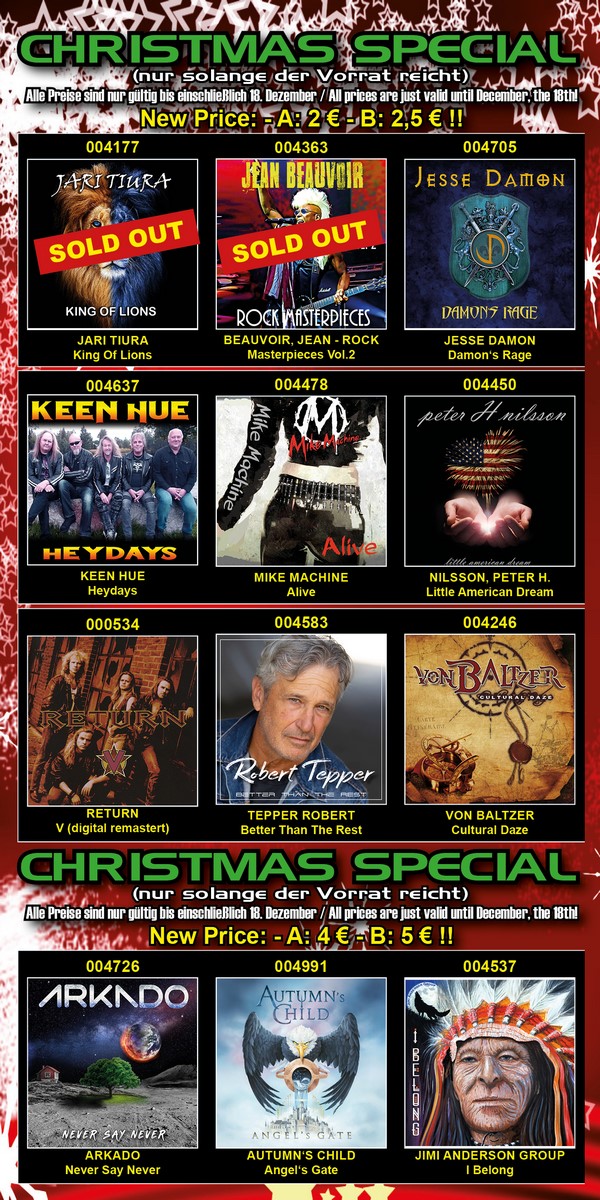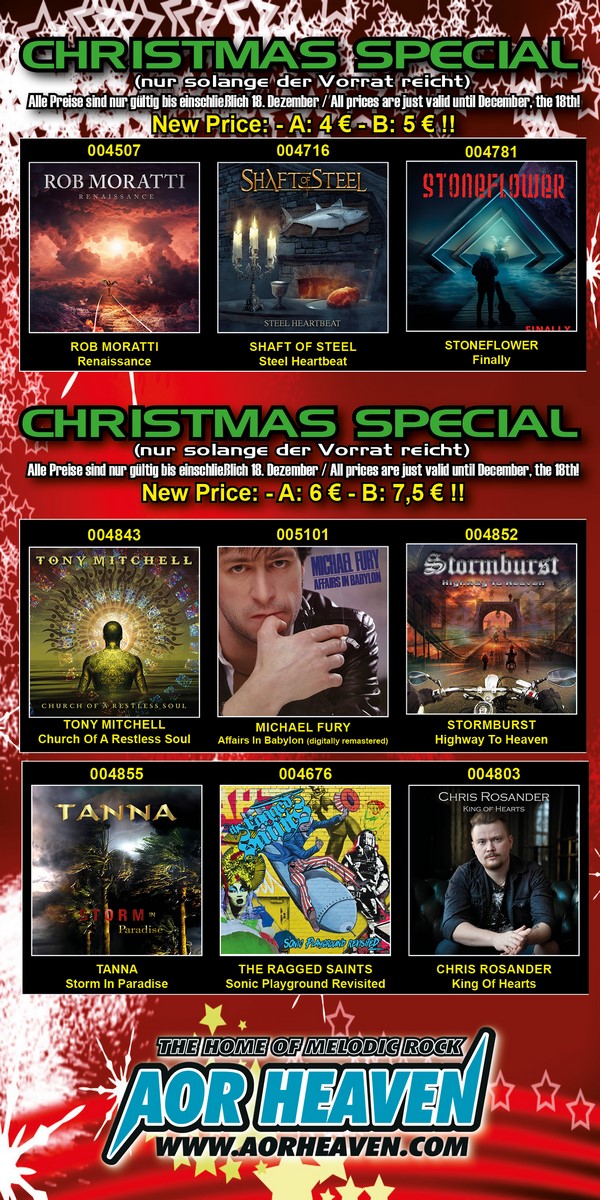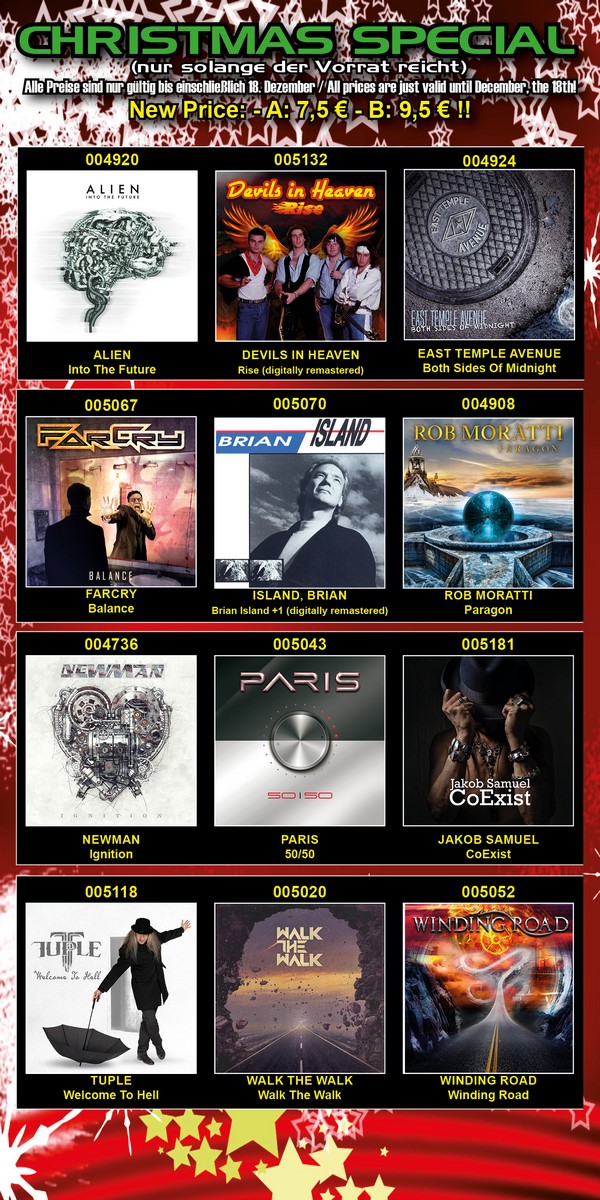 WICKED SENSATION - 12/17
MAGNUM - 01/14
GIANT - 01/14
AUTUMN'S CHILD - 01/14
TONY MARTIN - 01/14
KISSIN' DYNAMITE - 01/21